OINTMENT LINE
(Pharma Manufacturing Lines)
Capacity: From 250Kgs to 3000 Kgs.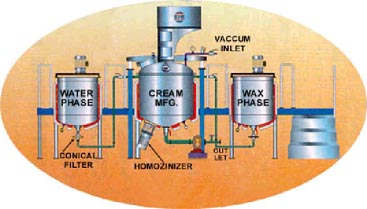 Latest Model confirming CGMP norms
Complete Lid Lifting arrangement to facilitate cleaning & product change over.
Easily Cleanable:-
Cleaning validation by Sweb testing can match international standards (10 PPM). Easy openable and cleanable, pipeline electro polished. All joints are din union standard.
Mixing Principles are matching with international standards.
After Mixing less than 10 micron globle size is easily attainable in cream products.
We also Manufacture CONTRA ROTARY Manufacturing line for TOOTH PASTE.
Now we are introducing NOTA MIXER for Mixing dry powder & Cream.
We undertake complete Turnkey job with respect to Cream/ Ointment Manufacturing Plant including utility lines.
We also offer PLC Base Control Pannel for full Auto Cycle with Load cell as per Clients requirements.
Home | About Us | Contact Us | FAQ | Feedback